YNet News: "US Secretary of State John Kerry is trying to overcome the controversy surrounding the recognition of Israel as a Jewish state by changing the definition to "the national homeland of the Jews", the London-based Arabic Al-Hayat newspaper reported Saturday morning.
It was further added that Kerry and his aide Martin Indyk updated Palestinian President Mahmoud Abbas that Prime Minister that President Mahmoud Abbas that prime Minister Netanyahu informed them that his government will collapse if the fourth round of Palestinian security prisoners release will be executed, since it includes 14 Arab-Israeli prisoners.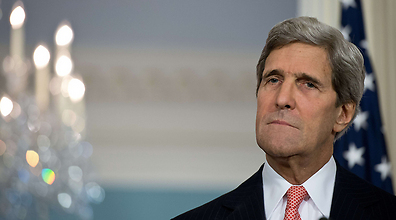 Opinion: Does it get any more evil that this? The illegitimate president of a made-up people refuses to acknowledge the Jewish state, so John Kerry decides to rewrite history and throw Israel under the bus. Evidently Kerry was for Israel before he was against it.
There is so much Bible prophecy against this Kerry/US position that it is scary. Israel is the name God gave to the Patriarch Jacob (Genesis 35:10) and repeatedly warned the nations NOT to divide His land (Joel 3:1-2) and further promised a curse on the people and nations that do, (Genesis 12:3).
Oy Vey.