JNS: Israeli forces carried out strikes in the Egyptian-ruled Sinai Peninsula recently, targeting terrorist positions in northern Sinai, witnesses claimed.
According to a report carried by the London-based Al-Araby Al-Jadeed media outlet Monday morning, Israeli aircraft hit terrorist targets inside Egyptian territory in the northern Sinai Peninsula, not far from the border with the Gaza Strip. The targets were located just outside of the cities of Rafah and Sheikh Zuweid.
The strikes reportedly were carried out with the approval of the Egyptian military. more …
Opinion: The Sinai was the scene of the first recorded terrorist attack on the Israelites in the Exodus as they crossed the Red Sea:
After the Red Sea crossing, the first Biblically-recorded
terror attack on the Israelites came from a tribe called
the Amalekites. Their leader was an illegitimate grandson of Esau
named Amalek, who inherited his grandfather's intense hatred (Gen.
27:41) for his brother Jacob. While the Egyptians failed to harm the
Israelites, the Amalekites succeeded in doing so.
The Sinai was the scene of the first war the Israelites fought in the Exodus: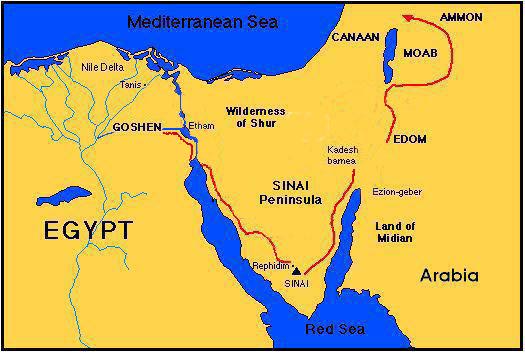 Now Amalek came and fought with Israel in
Rephidim (Sinai). So Moses said to Joshua, "Choose for us
men, and go out and fight with Amalek. Tomorrow
I will stand on the top of the hill with the staff of
God in my hand." So Joshua did as Moses told him,
and fought with Amalek, while Moses, Aaron, and
Hur went up to the top of the hill.
Thirty-five hundred years later, ISIS, one the world's most heinous terror groups, retreated to the place of their ancestor Amalek:
2017: The unwillingness of the world to crush this rogue state
in 2014, 2015 and 2016 saw a change in 2017 with Donald Trump's
win of the US presidency. ISIS retreated to the Sinai, the place of
Amalek's first attack on the Israelites, to rebuild its forces.
In Genesis 27:41 Esau plotted to kill his brother Jacob. His descendants are still trying and they will not stop until the return of Jesus Christ. (See video "The First Terrorist" on our home page)
(Excerpts: Antichrist: The Search for Amalek, 3rd anniversary revised edition)